Printing facility Athesia sets new norm
Printing company celebrates successful Premium PSO certification according to FOGRA51
On the basis of our many years of process standardization, we want to achieve more than just the standard. This was demonstrated two years ago when we successfully completed certification according to Premium PSO. In this year, we have established new standards. This time, the certification program was successfully completed according to the "new ISO standard" - Fogra51 for coated printing materials.
In the course of the certification process, the various different production sequences – including color management, the contract proof, plate production, and production printing - were examined. In comparison to conventional PSO, with this certificate, the tolerances for deviations are reduced. For the first time, certification was carried out on the new "Heidelberg 106XL 8P." All processes received positive marks and were given a rating of "excellent." This again proves the extremely high printing quality which we guarantee our customers at all times on our printing presses.
Besides the Premium PSO certification, proofing conditions according to ISO 3664:2009 in the pre-printing stage and at the printing presses were checked. The printing company can thus guarantee its customers superb lighting conditions when comparing contract proof samples (proofing) and printing sheets.
"For many years now, we have demonstrated the achievement of standardized printing quality on the basis of the PSO certification (Process Standard Offset-printing). Two years ago, we went a step farther and subjected our printing process to Premium PSO certification, with a positive result. This year, we wanted to have ourselves tested again and so underwent the certification program according to the new FOGRA51 standard. Athesia Druck is proud to report that we are the first company in the whole of Italy to complete Premium PSO certification according to Fogra51." (Andreas Agostini, Quality Management)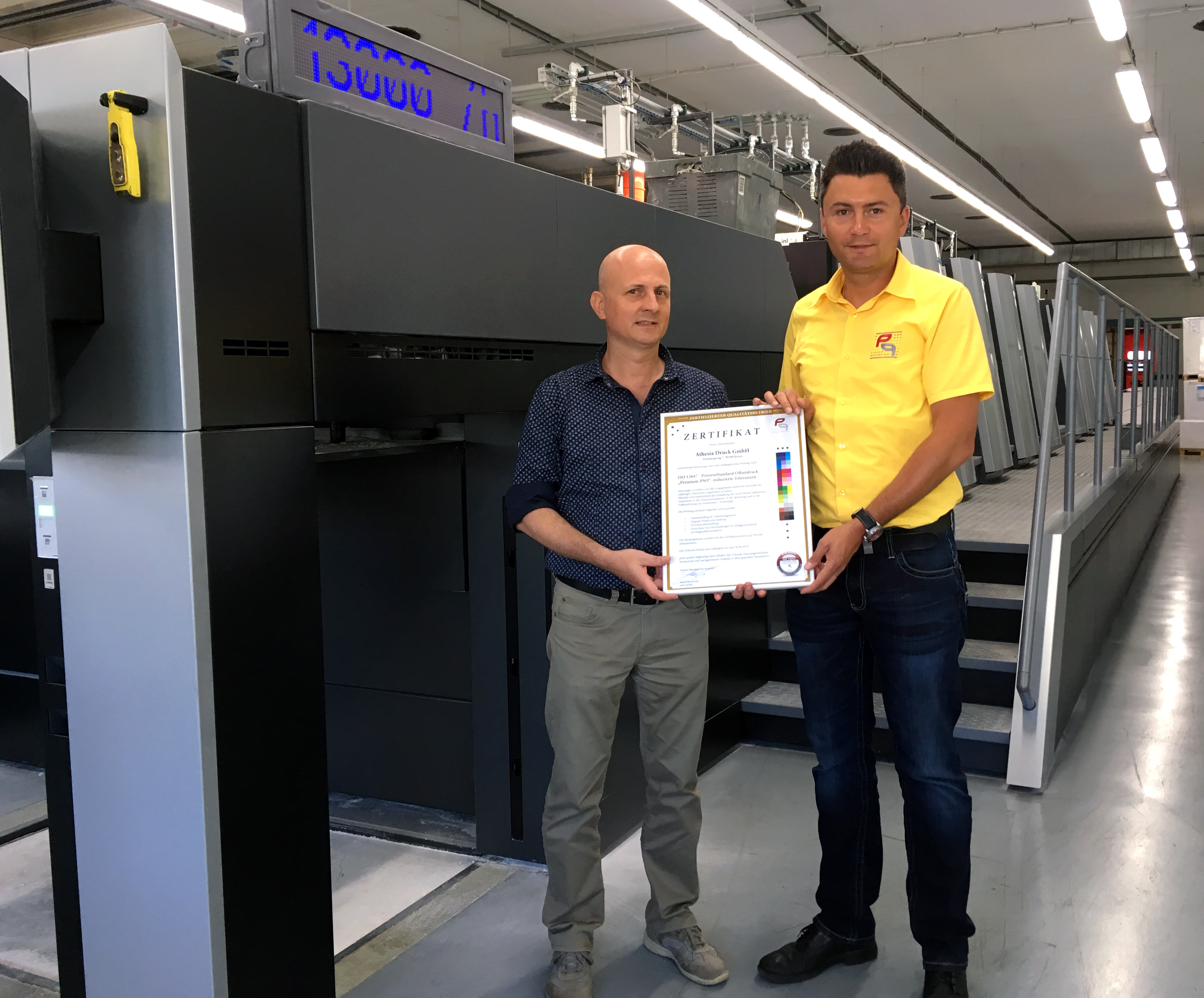 Handing over of the certification at Athesia Druck: left: Andreas Agostini (responsible quality management) and Rafael Skoczowski (print quality)